Courier & Delivery Services in St. Louis, MO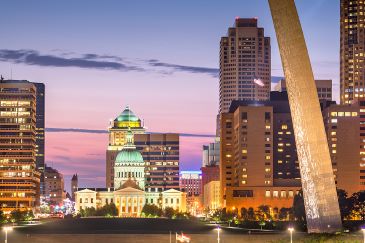 Are you in need of a dependable courier service in St. Louis, Missouri? Look no further than Ontime Express. We understand that time is of the essence when it comes to delivering important packages, documents, unique items, and items that need special handling. Our dedicated, in-house team of couriers and delivery drivers is committed to providing you with prompt and efficient courier services that exceed your expectations.
We live and work in greater STL, and we know the Gateway City inside and out. We know how to pronounce Gravois, Carondelet and Des Peres, and to us, Riverport will always be the real name. Everything we do is in-house, so if you need it delivered on time and undamaged, we're here for you!
Read below to learn more about our courier and delivery services in St. Louis. Call us at (314) 729-7878 or complete the form on this page to get a fast, no-hassle price quote.
On-Demand Delivery Service
Imagine having your urgent package picked up and delivered exactly when you need it. With our on-demand delivery service, Ontime Express ensures that your deliveries are collected and dispatched promptly so they will arrive Ontime, every time. We're just a call away, ready to handle your time-sensitive deliveries. When time is money, count on us to save you both.
Emergency and Rush Courier Service
Life doesn't always go according to plan. Emergencies arise, and you require immediate delivery assistance. Ontime Express understands the urgency of these situations. Our emergency and rush delivery services are designed to meet your time requirements. We are prepared to go above and beyond to ensure your package reaches its destination on time, no matter the obstacles.
Scheduled Courier Service
For regular deliveries or those that can be planned in advance, our scheduled courier service is the perfect solution. Whether it's daily, weekly, or monthly, we'll be there like clockwork to pick up and deliver your items. Enjoy the peace of mind that comes with knowing that your deliveries will be handled consistently and efficiently.
Recurring Delivery Service
Why worry about calling for delivery service repeatedly when you can streamline the process with our recurring delivery service? We make it easy for you to automate your deliveries. Whether it's monthly invoicing, prescription refills, or office supplies restocking, our recurring courier service takes the hassle out of repetitive deliveries. Focus on what matters most while we take care of your recurring delivery needs.
Economy Courier Service
Looking for cost-effective delivery options without compromising quality service? Ontime Express offers an economy courier service to fit your budget. Our affordable rates make our reliable delivery solutions accessible for businesses and individuals alike. Rest assured that "economy" does not mean we compromise on speed or security. We're committed to providing you with exceptional service at a price that won't break the bank.
Unique Item Delivery Service
Some items require special care and attention during transit and delivery. Whether it's confidential documents, catered meals, or palletized goods, Ontime Express has the expertise to handle unique item deliveries. Our specially-trained couriers will ensure that your precious cargo is transported safely and securely. Trust us to treat your unique items as if they were our own.
Any-Size Load Delivery Service
From small parcels to oversized cargo, Ontime Express is equipped to deliver any-size load. We have a diverse fleet of vehicles ready to accommodate your specific requirements. Our experienced team will handle the logistics and transportation of your items, ensuring they arrive at their destination intact and on time. We handle various types of deliveries with precision and care on a daily basis.
Special Delivery Service
Certain deliveries may require dock-high service, lift gate service, or larger trucks. Is that's what you need, we've got you covered! Ontime Express understands the importance of having the right tools for the job. Our special delivery service ensures that your unique delivery needs are met.
Commitment to Customer Service, Security, and Speed
At Ontime Express, we believe that exceptional customer service is the cornerstone of our success. Our dedicated team of couriers is trained to provide friendly and professional service, ensuring a positive experience from start to finish. We keep your packages secure so you can have peace of mind. Speed is our priority, but we never compromise on safety. Trust us to deliver your goods on time, every time.
Insider Knowledge of the Local Area
Navigating the Bi-State area requires familiarity with its unique geography and traffic patterns that only the locals know. At Ontime Express, we handle everything in house. We live and work right here, so we know the fastest and most efficient routes for your deliveries. Whether it's rush hour or road construction, we get your item there promptly.
Let the Local Experts Deliver It
When it comes to reliable courier services in our hometown of St. Louis, MO, Ontime Express is your trusted partner. With our range of services, including on-demand, emergency, scheduled, recurring, and economy options, we have a solution for every courier and delivery need. From unique items to any-size loads, we handle it all with care. Whatever you need delivered, count on us.
We are standing by to help with your delivery. Just call us at (314) 729-7878 or complete the form on this page to get a fast, no-hassle price quote.