Courier & Delivery Services in Clayton, MO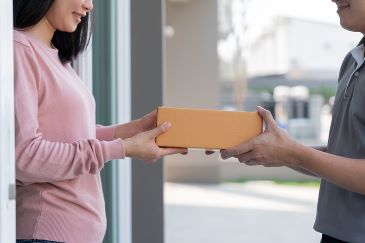 Are you tired of waiting for your packages? Are traditional courier services just not cutting it anymore? Look no further! Ontime Express, Clayton, Missouri's local courier for over 24 years, is here to change the way you think about deliveries.
Emergency and Rush Delivery Services
When time is of the essence, trust Ontime Express. Our emergency and rush delivery service is like a medical emergency team for your parcels. We sprint so you don't have to. With 60-90-minute rush service and even food delivery service, we've got you covered.
When you're in a pinch, lean on Clayton's fastest courier.
We are standing by to help with your delivery. Just call us at (314) 729-7878 to get a fast, no-hassle price quote.
On-Demand and Direct Delivery Service
Need it now? We mean NOW! Our direct service is the fastest way to make critical deliveries in Clayton, Missouri. When you need an on-demand courier, we send our nearest driver immediately to pick up your package and make the delivery as quickly and safely as possible. With just a call, Ontime Express is at your door, ready to head straight to the destination.
Scheduled Delivery and Recurring Courier Service
Consistency is key. Just like the ticking of a clock, our scheduled delivery and recurring courier service ensures your parcels are picked up and delivered when expected. Imagine a never-ending conveyor belt, customized to your needs, transporting your goods with precision.
Isn't it time you stopped worrying about your regular shipments?
Unique Item Delivery Service
One size does not fit all. From helicopter blades to precious artwork, passports to a wedding tie, our unique item delivery service is crafted for those special treasures or unexpected courier requests that no other vendor can wrap their heads around—but we can! Think of it as putting on a pair of gloves that fit just right, handling your unique items with the care they deserve.
Why risk your special items with anyone but the experts?
Any-Size Load Delivery Service
Oversized load? Small parcel? No problem! If delivery services were a mighty river, Ontime Express would be its current, carrying anything that comes its way. Our any-size load delivery service ensures everything gets to where it needs to be.
Can your current delivery service handle that?
Local Expertise and Customer Service Excellence
Being locally-owned and operated, we're not just part of the community; we are the community. We know Clayton, Missouri like the back of our hand, and our local expertise sets us apart.
But that's not all! Our commitment to customer service ensures a personalized experience every time. Security is our priority, ensuring your items are in safe hands.
Isn't it time to trust a local courier that truly cares?
Ontime Express isn't just another courier service; we're your neighbor in Clayton. We take pride in being your go-to for every delivery need.
From the everyday to the extraordinary, let Ontime Express be your choice. With our wide array of courier and delivery services, we have the exact service you need. So why wait?
Contact us today and discover the Ontime Express difference. Because with us, it's never just business; it's personal.
Call us at (314) 729-7878 to get a fast, no-hassle price quote.